In some ways, Naweed Rahimzada is like any other 25-year-old man in America. He goes to work dreaming of bigger and better, jokes with his coworkers and spends hours on the phone with his girlfriend. Yet his life is one of enormous uncertainty.
Naweed is a refugee, one of more than 12,000* who came to the U.S. in 2021. His job is his lifeline. His friends, family, and even his girlfriend are all thousands of miles away – in Afghanistan.
Naweed has been part of Unifi Aviation since April 2022, working as a Cabin Service Agent at Seattle-Tacoma International Airport. His journey to get here – and the journey he still faces – is one of struggle, resilience, and hope.
"Growing up in Afghanistan was not easy," Naweed says, sharing his story through a translator. "But my father worked very hard to make a living, cultivating the land we owned, and my brother and I were able to go to school." Naweed was raised in Jalalabad in the Nangarhar Province, where his family worked as farmers.
In 2016, Naweed took the only job available to him – serving as a security guard for the United Nations at Kabul Airport.
"I had no other choices – it is really difficult to find work in Afghanistan," says Naweed. "It was a dangerous job because there are so many security challenges in the country." Those challenges multiplied drastically in August of 2021 when the U.S. began its military withdrawal from Afghanistan, and the Taliban regained power.
"It was a horrifying time – a time I will never forget. I was working at the airport [when the Taliban came to Kabul], and we knew things could turn at any second. We were told to be ready for anything," says Naweed, tasked with providing security for four U.S. officials until they boarded a plane out of Kabul.
As he assessed the volatility and violence around him, Naweed says he asked the U.S. military for help. "I wasn't safe in Afghanistan under Taliban rule. People knew who we worked for and what we did, and they [Taliban] were not going to spare us."
The U.S. military confirmed Naweed's background and paperwork, and on August 22, he was on a plane to the United States – headed for the U.S. state of Washington. Naweed's first few months in America were disorienting and challenging. He stayed with a cousin but was eager to look for work and his own place.
Since working at the airport as part of Unifi, Naweed has risen to the top and been recognized by leaders across the business.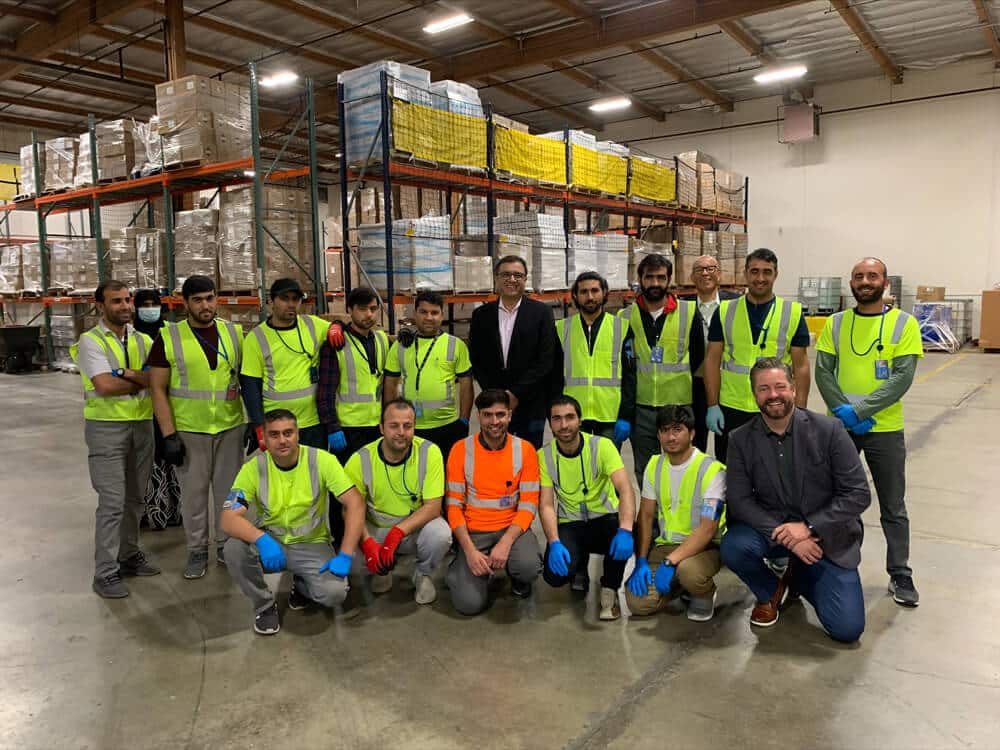 "I was so inspired by Naweed and his story when I met and spoke to him," says Chief Executive Officer, Gautam Thakkar. "Naweed is an excellent representation of the culture we are building at Unifi – one that uplifts communities and elevates people."
"He's an amazingly hard worker," adds Naweed's manager, Alex Hilario. "Not only does Naweed show up and put in 100 percent at work, but he then goes home and works on learning English."
Since Naweed joined Alex's team – he's also brought nearly 30 more employees on board – all of whom are refugees. While Unifi employs dozens of refugees across the country, the company is looking to expand its recruitment efforts.
"Refugee outreach and community recruitment efforts are very important to us," says Chief People Officer Archana Arcot. "It's an extension of our commitment to frontline employees and creating growth opportunities for all communities – whether it's racial and ethnic minorities, women, veterans, or refugees. We know that having a diverse, welcoming workforce makes us an inclusive, smarter, and more successful company."
For Naweed, his career at Unifi has not just given him a purpose in a new land – it's been a blessing for everyone he cares for. "It's not easy living as a refugee, and I can't speak for everyone but for me – I'm happy right now because I can provide for my family. We have big families back home and I have a lot of brothers and sisters. Finding a job and earning money in Afghanistan is almost impossible."
Although Naweed's future is filled with many unknowns, his newfound career in aviation has been a bright spot.
"I am very happy at work," says Naweed. Alex and Ken – my managers – provide us with everything we need to do our jobs – whatever we need, they make it happen. We are all here [with Unifi] because we are treated well."
For press & media inquiries: mediarelations@unifiservice.com