On August 8, deadly wildfires erupted on the western side of the Hawaiian island of Maui – much of it overnight.
With nearly 200 employees stationed in Maui, Unifi leaders were unsure and worried. Thankfully none of them were hurt and almost all the Maui-based team continued coming to work. Not only did Maui employees show up – many even came in on their days off because the airport had become a ground zero for stranded travelers. Employees from Unifi's Kona, Seattle, and Palm Springs stations arrived to help as well.
Hundreds of tourists were stranded at the airport according to Unifi managers on the ground and many were bussed in from west Maui where the fire happened.  The airport was overrun the first few days with people sleeping in terminals and anxious to find flights to fly them home. Staff did their best to make them comfortable until they had confirmed tickets – one of Unifi's regional managers even went out one morning and got pastries and donuts to hand out.
All this was happening alongside relief efforts.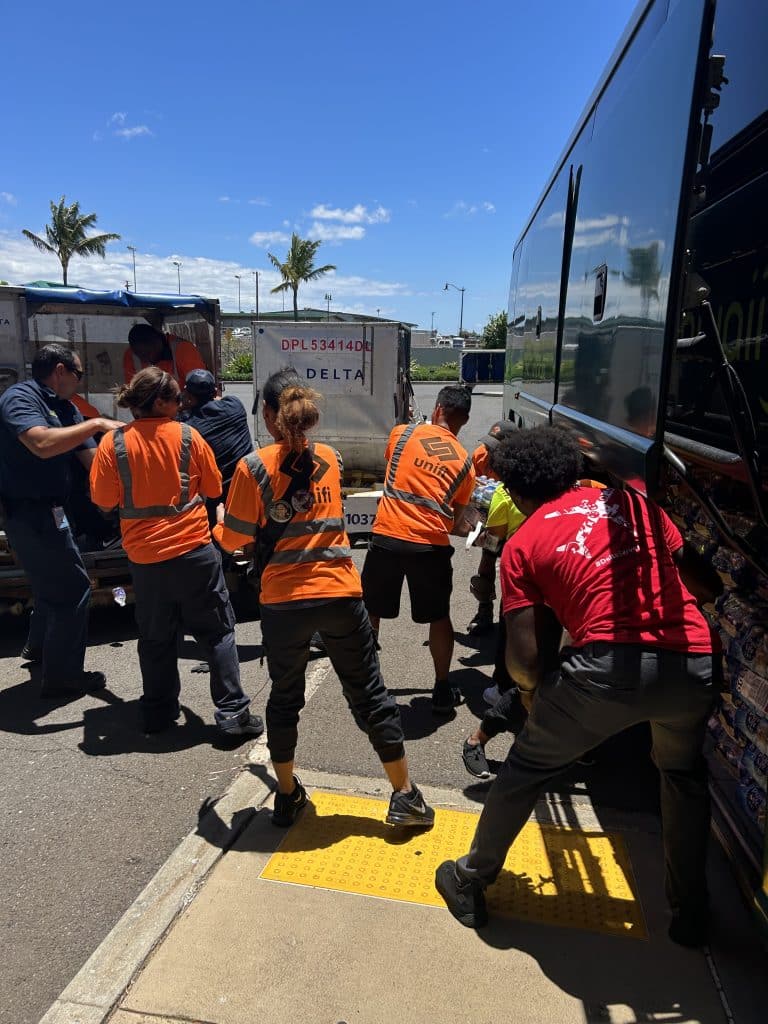 There was an enormous amount of cargo – more cargo than the team has handled in the past. There were dozens upon dozens of packages of food, water, medicine, diapers – every essential item one can think of.  For several days, Unifi team members, along with our airline partners, loaded up the cargo and drove it all down to Lahaina to a distribution center that had been set up. One Unifi leader who was part of the first delivery team describes how eerie it was seeing the devastation and smoke still rising.
While none of Unifi's Maui team lost their homes in the fires, many took in friends and family who did. The devastation and death toll will never be forgotten by the people of Hawaii and certainly not by those who call Maui home.
Unifi donated $25,000 to the Red Cross's relief efforts and matched employee donations for a total of $43,000. The company is also hosting an employee drive in Maui next month to reward and celebrate the extraordinary team.
"Our employees are the heart of our company. They are the essential workers who make travel possible, and we knew we had to be with them during this difficult time, just like they are there for us every day," said CEO Gautam Thakkar.