Art Garciacano will never forget where he was at 2:15 in the afternoon on September 1, 2008 – inside Saddam Hussein's palace in Iraq, being sworn in as a U.S. Citizen.
These days, Art is a Station Manager, with Unifi Aviation, at John Wayne Airport in Santa Ana, but for 10 years of his life, he was part of the United States Marine Corp., and he says being a veteran is one of the highest honors of his life.
Art was deployed four times during the war in Iraq before being medically discharged.
"It was on my fourth and final deployment to Iraq I was given the opportunity to become a U.S. Citizen. The swearing-in ceremony happened inside Saddam's palace, performed by a three-star general. I received a certificate of naturalization and an American flag that flew over the palace," says Art. "It's a day etched in memory."
According to Art, returning to civilian life after serving in the Marines wasn't without its challenges.
"It's an ongoing process for me," says Art. "Even today – as a station manager – my regional manager, support group – it's hard for them not to notice that I was in the military. Even my tone of voice – in the Marine Corp., raising your voice was not frowned upon, but in the civilian world, it is, so I have to keep telling myself I'm not in the Marines anymore."
Despite the hurdles, Art says more companies should hire veterans.
"We are held accountable, and if we say we'll do a job – we'll do it. That's what the military instills in you," says Art. "Working 12-hour days is nothing – it doesn't phase us, and we are committed to the jobs we take on."
It's a sentiment shared by most veterans.
"You build the best work ethic in the military. Doing your job correctly and on time – you are held accountable. People in the military really care about their jobs," says Valerie Zimmerle, an Operations Support Manager at the Spokane International Airport. She served in the United States Air Force for two years, and her husband just retired from the United States Navy after 20 years.
"So many vets keep extending their service because they don't have the opportunity or knowledge to take that next step," says Zimmerle. "But they are very dedicated and take their work seriously because that was the expectation in the military."
Zimmerle says she is part of a proud veteran family, and it's something she carries with her daily.
"I'm so proud of my service, extremely proud of my husband's service – our friends and the military community as well," she says. "You build a wonderful camaraderie when you serve, and I've left with lifelong friendships."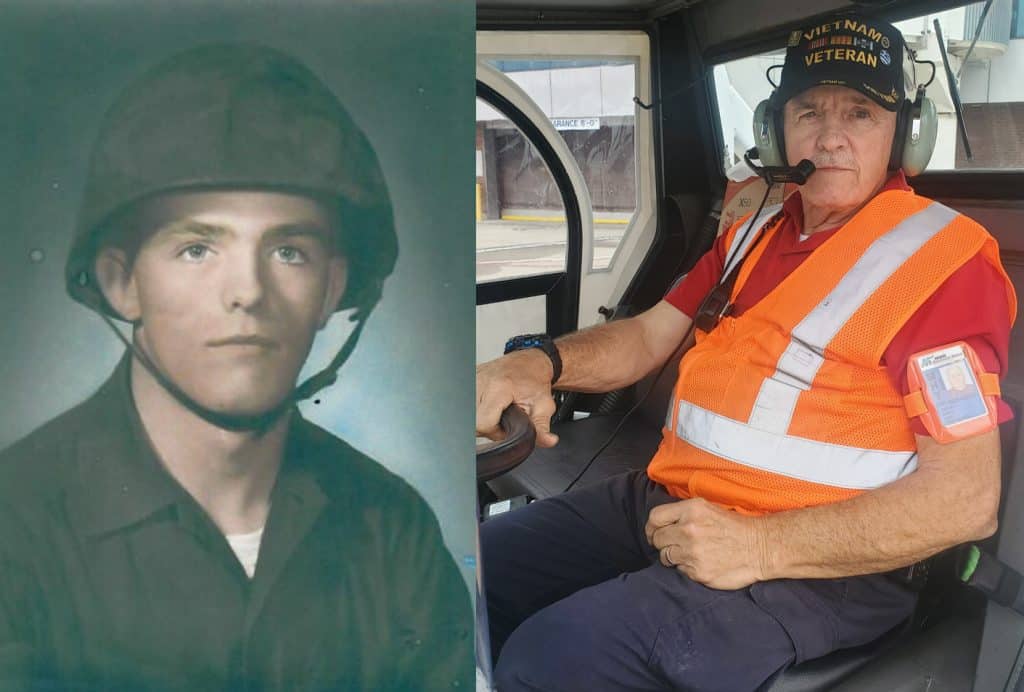 James Papavlo is a Vietnam War veteran and works as a Unifi Ramp Agent at Manchester-Boston Regional Airport. "All the veterans I know in my community are hard workers. I can't remember the last time I came in late or called out," says James. "But people should also realize that we'll go through lull periods, and it's not always easy for us to talk about what we've been through."
James was drafted to join the Vietnam War in 1965 as part of the U.S. Marines. Although time has him separated from his active military duty years for longer than others – the effects of war never wear off, says James.
"Nobody ever wins a war – it's just that one side loses a little more," says James. "Seeing fellow comrades blown up by landmines and shot at was a shock to my system."
James fought for 13 months before returning home. In 1968 he was set to reenlist but couldn't handle returning to a war zone and was able to opt out of active duty.
"There are no good memories from a war," says James. "It's not normal to want to travel thousands of miles to shoot and kill someone you don't know, and then to come home and have people spit at you and call you a baby killer – it was really hard."
More than 50 years later, James says he still thinks about Vietnam and wonders why he was there in the first place. He says he hopes people realize how tough it can be to return to civilian life for many veterans and having support for counseling and jobs can go a long way in easing those burdens.
Mark Brown is a Performance Manager for Unifi, based in San Diego, and served in the U.S. Navy for 14 years after joining in 1998. Brown was stationed in the Persian Gulf when the U.S.S Cole was bombed in Yemen, killing 17 American sailors, and also served a year in Iraq during the war after 9/11.
"The biggest lesson I learned from my years in the military was taking responsibility for your own actions, and I've carried it into everything I do."
Brown says there are a lot of sacrifices that go into service, and when veterans return home, he advises people to be patient. "There are a lot of veterans out there that can be solid contributors, but they are just trying to find their way. I know for me, and many others, the military taught us to always get the job done."
These are just a few of the dozens of veterans Unifi employs nationwide. We are deeply committed to hiring from our military community; you can learn more here.
For press & media inquiries: mediarelations@unifiservice.com